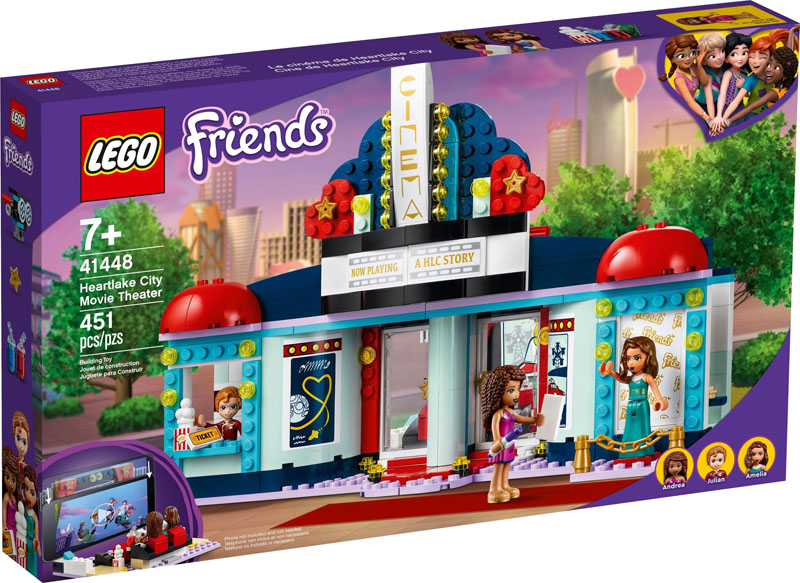 Today we get to take a look at some new 2021 LEGO sets and the first one that we'll be checking out is the LEGO Friends Heartlake City Movie Theater (41448). Releasing on January 1, it has 451 pieces and retails for $49.99. We'll be doing something different for the LEGO Friends reviews. Since I don't do much with the theme, I've actually sent it to one of the members of my community to review it. I've known Kelly and her family for a few years now and they're big fans of the theme so this was perfect for them. Check it out below and subscribe to her channel.
---
Thank you to LEGO for sending in this set for me to review. The content above represents my own opinion and not the company. Review sets sent in does not guarantee a positive review.
By this point, I'm pretty sure everyone and their mother has watched The Mandalorian (except my own mother, who only watches PBS). It's a popular show, and for a good reason: it takes the western-cowboy movie vibes of A New Hope and runs with it, letting us see a grittier side of everybody's favorite space fairy tale kingdom. It's got a cute little Yoda-species kid, a more fleshed-out version of the mysterious Mandalorian Boba Fett, and plenty of epic gunfights. As a result, the spaceship that hauls around Mando (a.k.a. Din Djarin), the Razor Crest, has become almost as recognizable as the TIE Fighter or the X-Wing. And just like those venerable ships, the Razor Crest has received the epic treatment from Jarek Książczyk (Jerac), a master Star Wars LEGO builder.
This thing is amazing, with lights, interior seating, room for Mando's bounties, and plenty of opening compartments to store stuff, like extra blasters and explosives. Even though the perfect shot almost makes it seem like it should be, it is not a render, but this is a real-ABS creation, weighing in at nearly seven pounds. It also took five months to build, which is crazy. Every angle is lovingly captured, the surfaces smooth just the way they should be (compare this to the official LEGO Razor Crest playset), and stickerless. Jerac uses the canopy from the official set, but then scales the whole thing up appropriately. Three minifigs can sit in the cockpit (perhaps not in comfort, but they can fit). The only inaccuracy I can see here is that there's no chrome ball for the Child to covet (though the light grey lever arm serves well enough).
We see Mando walk out of all sorts of doors in the Razor Crest, and Jerac has included them all.
There are the side doors on each side, as well as the large ramp in the back, perfect for pushing some levitating blocks of carbonite out of.
The minifigure skis make some great engine nozzles, too, visible in this shot. The smooth surface of the ship is nearly studless, which I love, though now I expect Jerac to create versions of the ship in all the different conditions we see her in: blasted by other ships, crashed onto ice planets, eaten by spiders, and all that. For some reason, the Millennium Falcon can crash through mineral walls, slam through forests of snowy trees, and take every sort of hit and remain perfectly fine and flyable, but the Razor Crest shows all her scars and limps through the stars. Either it's just not as sturdy, or it's a more realistic side of Star Wars, the gritty, hardscrabble side of things, where folks drive beaters with hyperdrives. That being said, I do not think we shall see a better minifigure-scale version of Mando's ship than Jerac's creation, not for all the beskar in the galaxy.
Love the Razor Crest as much as Din Djarin did? Then check out other custom LEGO Razor Crest versions, in all sorts of scales. And check out other LEGO models inspired by The Mandalorian. Jerac has built many amazing LEGO Star Wars vehicles over the years, so check out our archives of Jerac's LEGO builds here on TBB. This is the way!
Ok, and just one more shot of this ship, since I can't resist:
The post This epic 5000-piece Razor Crest from the Mandalorian is the perfect tribute to the trendiest spaceship out there appeared first on The Brothers Brick.
While I'm boringly American in culture, I do have a significant amount of Scandinavian ancestry, as attested by my Swedish surname. Though I'm sure my ancestors were the same lowly farmers in Sweden that they were when they arrived in the United States several generations back, I like to imagine that somewhere among my forebears were some axe-swinging Vikings pillaging Irish fields so green with Led Zeppelin playing in the background, rowing longships like this LEGO one designed by Jonas Kramm across the North Sea. On they sweep with the threshing oar, seeking that rich western shore, crewed by a small army of CMF Series 20 Viking warriors. The serpent prow of the ship is lovely, as is the simplicity of the whole construction. Valhalla, I am coming!
Love Viking builds? Then check out the TBB archives here. And see more of Jonas' builds here, too.
The post We came from the land of ice and snow appeared first on The Brothers Brick.
40460 Roses and 40461 Tulips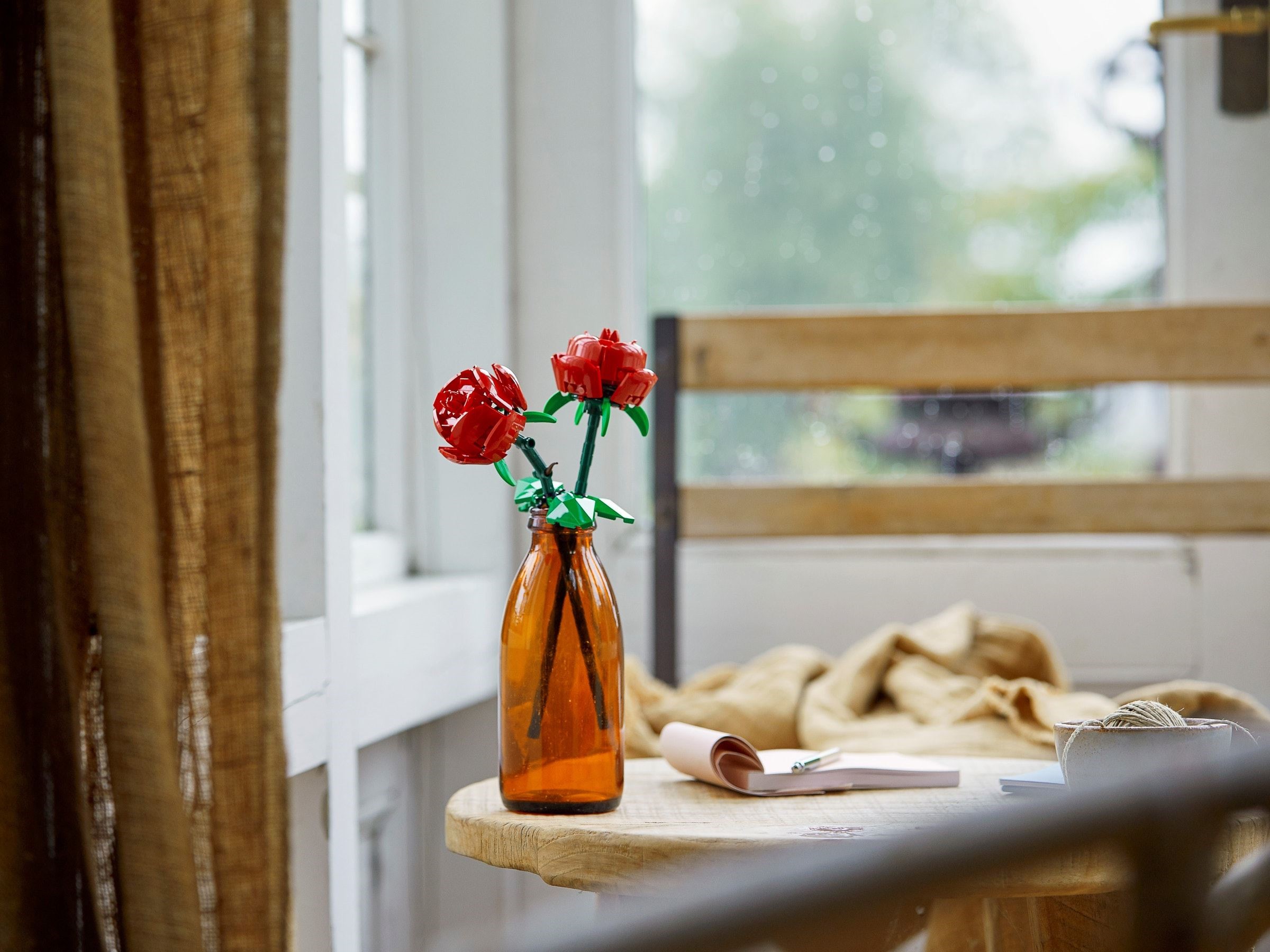 LEGO Shop UK has posted some product pages for the new LEGO flower sets that we first saw the other day. These sets include the Roses (40460) and Tulips (40461) which are a more affordable option for the new plant sets coming in 2021. If you didn't see yet, there will also be the Botanical Collection that is geared more towards the adult builders. These sts haven't been listed to the North America LEGO Shop yet but I guess it'll be there in a few days.
---
Roses (40460) – £11.99
Mark a special occasion with these LEGO® Roses (40460). They're the perfect gift for Valentine's Day, Mother's Day or just to let someone know how much they're cherished – and they'll bring a beautiful burst of color when displayed in a vase. This easy-to-assemble set comes with 2 red blooms, green leaves and length-adjustable stems. Combine with LEGO Tulips (40461) to add extra color to this brick-built bouquet. The set is also compatible with the LEGO Flower Bouquet (10280).

• Show someone how special they are with this LEGO® Roses (40460) building kit. It makes the perfect Valentine's, Mother's Day or just-because gift.
• Includes 2 buildable red roses with adjustable stems.
• Each rose stem measures over 10 in. (26 cm) long – perfect for displaying in a vase.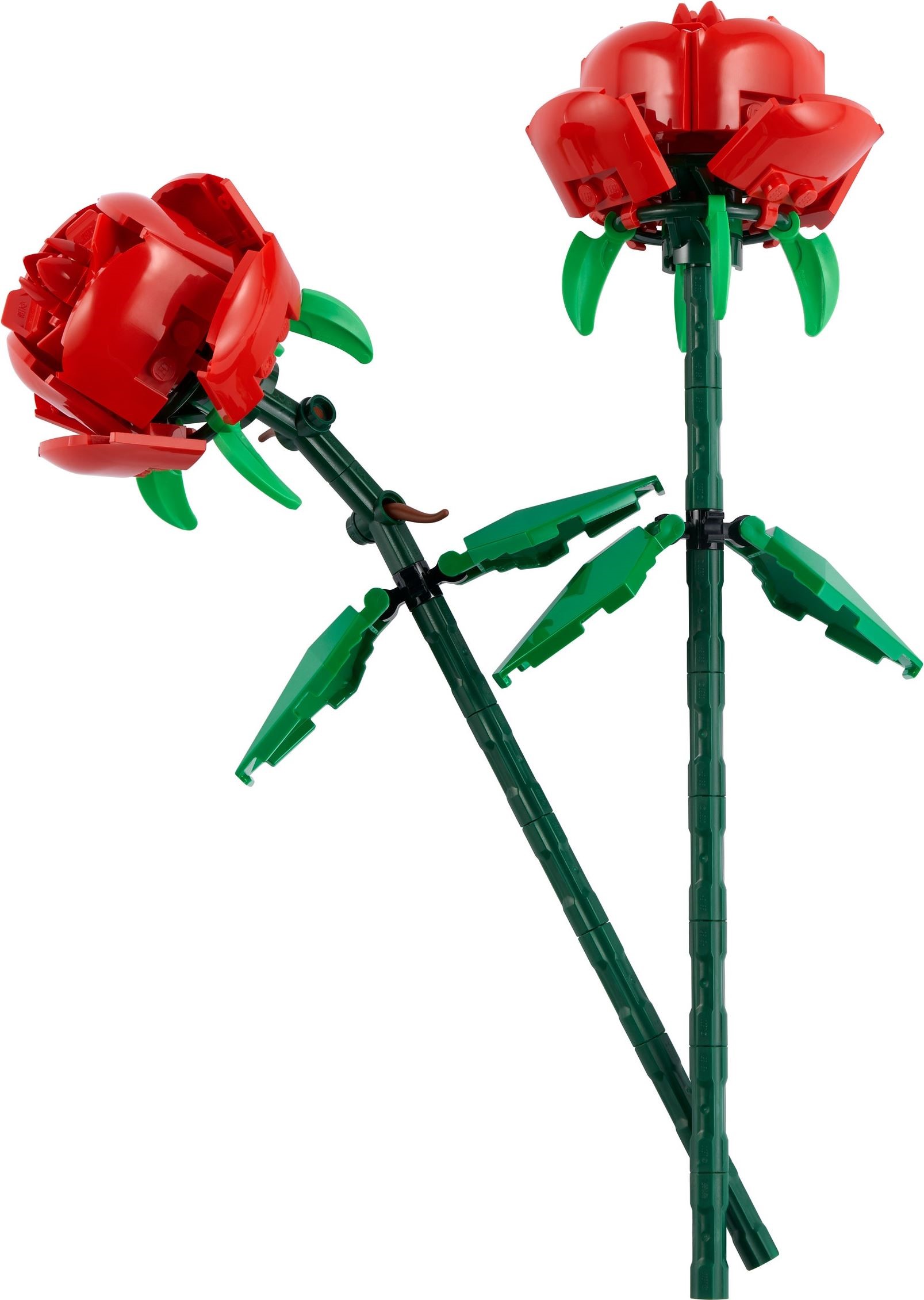 ---
Tulips (40461) – £8.99
Celebrate spring or any special occasion with these LEGO® Tulips (40461). They're the perfect gift for Mother's Day or just to let someone know how much they're cherished. The easy-to-assemble set comes with 3 blooms – 1 white, 1 purple and 1 yellow – with bright green leaves to symbolize the fresh new life of spring. With length-adjustable stems they can be displayed in most vases. The set can also be combined with LEGO Roses (40460) and the LEGO Flower Bouquet (10280).

• Show someone how special they are with this LEGO® Tulips (40461) building kit. Makes the perfect Mother's Day or just-because gift.
• Includes 3 buildable tulips in different colors with adjustable stems.
• Each tulip stem measures over 9 in. (24 cm) long – perfect for displaying in a vase.